Photograph Of The Week
Your Triton Web Site Crew will present a new photo on this page every week. Some will test your memory and challenge you to respond. Others will be shots of a great boat and her great crew and will be shown just for your enjoyment.

TRITON HALL OF FAME!

ATTENTION ALL HANDS. Beginning this week, we will begin a new series of Triton Sailor Photos
called the TRITON HALL OF FAME. We will post a photo for 7 days or so but we're NOT going to tell
you who it is. And the reason is - WE HAVE NO IDEA WHO IT IS! We only know it's a photo of
a 586 sailor. Your job is to tell us WHO the mystery sailor is - AND what his claim to fame was when
he was on the mighty TRITON. Rules all clear?? Right.



Almeida and Wouldridge, both commissioning crew and on the around the world cruise.
This photograph kindly sent in by Bob Perkins.


Hall of Fame 217

To post your answer, please click on the radar.

| | |
| --- | --- |
| | I think Lt Hay, Capt. Beach and Ken Remillard in the background ??? Have a nice day, |


Charlie Cleveland with the Triton model, as it was displayed at this years "Tolling of the Bell" ceremony, honoring all US Submarines lost at sea since the beginning of the US submarine service. In New York State, this ceremony was held at the state capital of Albany, NY on Monday, April 11, 2005.

Photograph kindly sent in by Ray Misiewicz.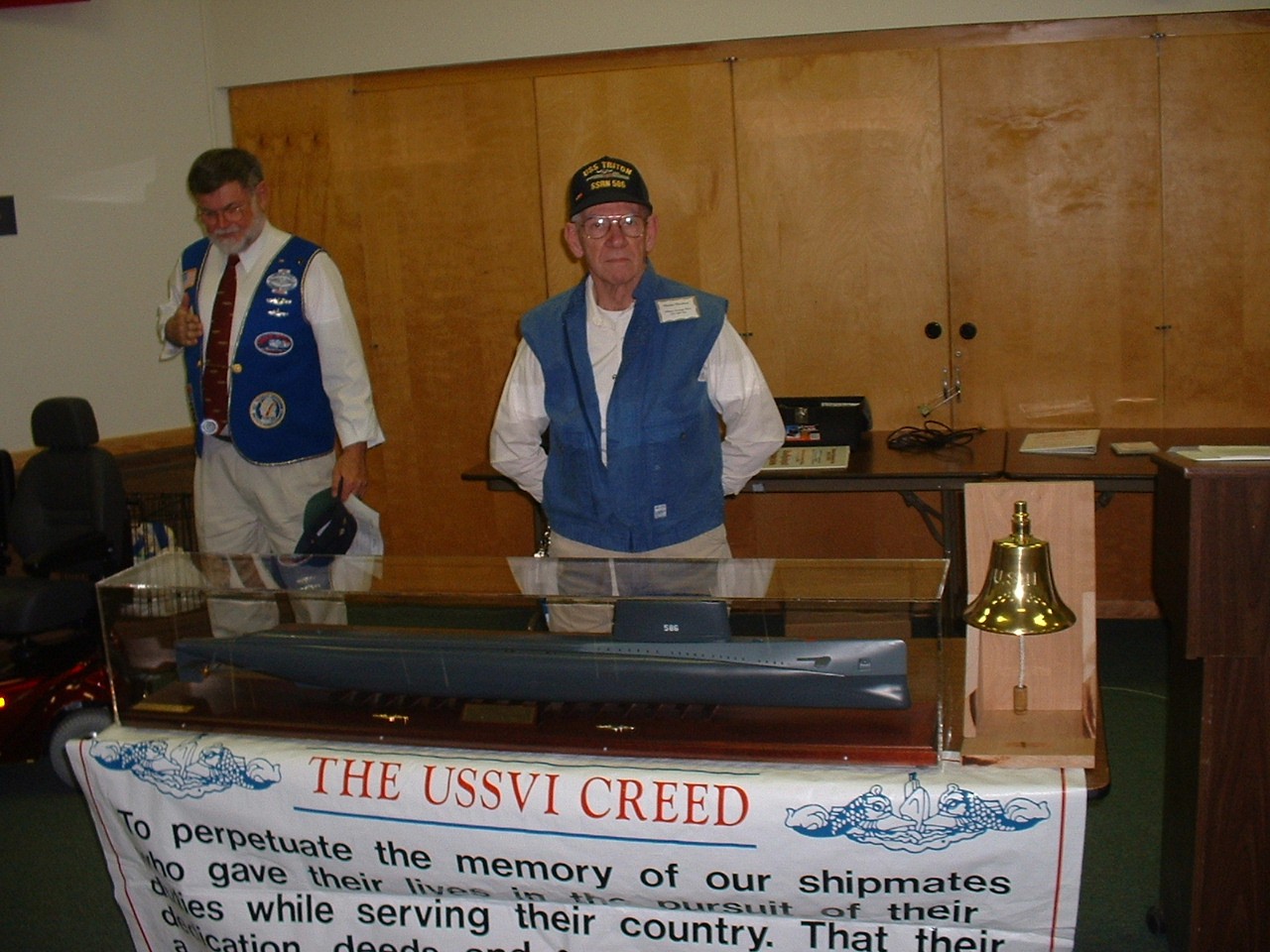 Charles E. (Charlie) Cleveland
Of Jonesville, passed away Saturday May 23, 2009 surrounded by his loving family at Albany Medical Center following an injury sustained from a fall. Born March 7, 1936 in Cambridge, NY he was the son of the late Ernest and Alice Cleveland. He graduated from Salem Central School in 1954. He was married to his loving wife of 50 years, Maureen (Sheridan) and resided in Jonesville for the last 42 years. He served in the U.S. Navy for twenty years. During this time, he served as a crew member aboard the submarine Triton USSN586, which circumnavigated the world in Magellan's path. He also served on an aircraft carrier, destroyer tender and several other submarines. He was an active member of the Albany-Saratoga Submarine Vets and was very proud to have served in the U.S. Navy. After Charlie retired from the U.S. Navy he continued to work as an electrician for many years with Valley Equipment in Schenectady. Charlie was awarded a certificate as Mr. Fix-it from his neighbors and continued to be the one to call on if something needed repair. Charlie could usually be found out at "The Barn" tinkering with his latest project. His children and grandchildren also called on Papa to help with their fix-it needs.
In addition to his wife, survivors include his children, Kevin and his wife Samantha of Rotterdam Jct., Cynthia Cleveland and James McAuliffe of Clifton Park, Christopher and his wife Marlena of Waterford, Jeffrey of Salem, Kathryn South and her husband Bud of Ballston Spa; fourteen grandchildren, two great-grandchildren and many nieces and nephews.
Funeral services will be held 10am Thursday, at Armer Funeral Home, Inc, 39 East High Street, Ballston Spa, NY. Burial will follow at Evergreen Cemetery, Salem, NY. Family and friends are invited to call Wednesday from 4 to 8pm at the funeral home.
Memorial donations may be made to the Jonesville Volunteer Fire Company, 953 Main Street, Clifton Park, NY 12065.
The family would like to thank the staff at the SICU at Albany Medical Center for the care and support provided by the doctors and nurses to our family over the last several days.