USS TRITON SS201

Triton entering Dutch Harbor, October 1942
Historically, USS TRITON (SSRN586) had great heritage in her predecessor, the first U.S. Ship of War to bear the name. USS TRITON (SS201), commissioned just prior to World War II, was the first American submarine to fire in anger at the Japanese. Though official confirmation was unobtainable, her crew believed she had damaged and probably sunk a large destroyer of the Wake Island landing force in December, 1941. In all, she conducted six highly successful patrols against the Japanese, and was credited by ComSubPac with 93,800 tons of enemy shipping sunk or damaged including the submarine I-164 and the destroyer Nenohi. On 16 February 1943, she departed from Brisbane, Australia on her sixth patrol, the first for her new skipper, LCDR George K. Mackennzie. Her last recorded message was received on 11 March, reporting a spirited convoy action in which a number of Japanese ships were sunk. Correlation with Japanese records indicates that TRITON was probably destroyed by depth charge attack by three enemy destroyers in the Solomons - Bismark area on 15 March 1943.
The ship's bell of the old TRITON was mounted in the Crew's Mess on the new Triton, where all might see it and reflect.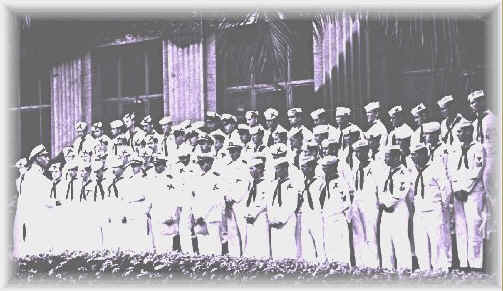 The last photograph of Triton's crew in front of the Royal Hawaiian Hotel.

Submarine Combat Patrol Pin worn by Triton's Crew

The original Triton was a Tambor class boat.
Length Overall - 307 feet 3 inches.
Maximum Beam - 27 feet 3 inches.
Displacement - Surfaced - 1475 tons Submerged - 2370 tons.
Operating Depth - 250 feet.
Speed - Surfaced - 20 knots Submerged - 8.75 knots.
Crew - 74.
Those who wish to know more about USS TRITON (SS201) are encouraged to visit the SS201 Home Page at: