USS TRITON (SS201)
USS TRITON (SSN586)
TRITON JOINT NEWSLETTER SEPTEMBER 2009
Shipmates, if you would like to be a part of celebrating the history of the one special submarine in each of our lives, PLEASE JOIN US AT THE 50th ANNIVERSARY REUNION celebrating the 50th Anniversary of the USS TRITON (SSRN586) submerged circumnavigation of the world. We have changed the itinerary, new itinerary included in this letter, for our TRITON Reunion to be able to participate in the New England Area Submarine Birthday Ball. The theme of this celebration honors, a significant event in submarine history, the 50th Anniversary of the USS TRITON (SSRN586) submerged circumnavigation of the world.
The 110th SUBMARINE BIRTHDAY BALL is scheduled to be held in the MGM Grand Premier Ballroom, Foxwoods Resort Casino celebrating the 110th Birthday of the Submarine Force. The tickets to this event are $45.00 per person. Please include this in the Reunion Registration Form.
The Radisson Hotel New London, CT is the Host Hotel for TRITON Reunion 2010 celebrating the 50th Anniversary of the TRITON's Submerged Circumnavigation. The Radisson features spacious rooms featuring sleep-number-beds and such welcome amenities as complimentary Wireless Internet Access, work stations, coffee makers, hair dryers, in-room movies and irons/ironing boards. The hotel restaurant, the Aqua Grille, features fresh New England seafood and delicious American fare. Also, relax and enjoy your favorite cocktail or catch the game at the Aqua Lounge. A fitness/workout room is available or you may want to kick back and relax while enjoying the indoor heated pool. ALL THIS FOR $89.00 per night. Shipmates this is a GREAT RATE. WE NEED YOUR SUPPORT, PLEASE BOOK YOUR STAY AT THE HOST HOTEL.
The Radisson enjoys a prime location in the heart of New London near local historic sites and just steps away from theaters, galleries and the Long Island/Block Island Ferries. The Radisson also offers shuttle service to and from Mohegan Sun Casino on Friday and Saturday from until .
The following is a brief overview of the REUNION:
REUNION DATES: April 7 – 11, 2010 (WED - SUN). The reunion host hotel is The Radisson Hotel New London, 35 Governor Winthrop Boulevard, New London, CT 06320, Phone: 860-443-7000, Website: www.radisson.com/newlondonct
TRITON JOINT NEWSLETTER SEPTEMBER, 2009
We reserved a block of 62 rooms (Single & Double) at a rate of $89.00 + 12% local taxes and fees. These rates are offered, based on availability, 3 days before and 3 days after reunion. Reservations: Phone: 860-443-1239 or 800-395-7046 toll free, www.radisson.com/newlondonct
CUTOFF DATE FOR OUR RADISSON NEW LONDON REUNION ROOM RESERVATIONS IS MARCH 6, 2010. We will release the remaining rooms that have NOT been reserved on MARCH 6, 2010.
We are working with Ms. Janice B. Putnam, Sales Director at Mystic Country/Connecticut, to assist in providing information for and working with you on tourist amenities and tours. Eastern Regional Tourism District, 32 Huntington Street, New London, CT 006320, Phone: 860-444-2206 toll free 1-800-863-6569. www.mysticcountry.com
SCHEDULE:
WEDNESDAY (4/7/10) – - CHECK IN – HOSPITALITY ROOM (1st floor Banquet Room)
THURSDAY (4/8/10) – TODAY IS A FREE DAY - PLEASE ENJOY THE LOCAL AMENITIES 6:00PM – 8:00 PM – WELCOME RECEPTION/SOCIAL HOUR IN THE LOBBY CAFÉ) – COFFEE, TEA & FOUNTAIN DRINKS, HEAVY HORDORVES (ASSORTED CHEESE, CRACKERS, VEGETABLE CRUDITES, DIP AND ASSORTED CRACKERS, HOT APPETIZER (CHEF'S CHOICE), BUFFALO WINGS MILD & SPICY, VEGETABLE SPRING ROLLS WITH A SWEET AND SOUR DIPPING SAUCE, BRUSCHETTA WITH GARLIC TOASTED BAGUETTES, CRAB STUFFED MUSHROOMS, CASH BAR
FRIDAY (4/9/10) – Submarine School Training Facilities Tour
– Attendees Group arrives in the HS Nautilus Parking Lot for Security Screening
– Group travels from HS Nautilus to Wilkinson Hall
Group attends TRITON Class Graduation Ceremony. Upon conclusion of the Graduation Ceremony, the group will be reduced to smaller groups for trainer tours
Groups tour Sub School Training Facilities
Lunch at the Galley (Meal cost is $4.25 per person)
Conclude – Upon completion of lunch Group travels to HS Nautilus Parking Lot
5:00PM – BANQUET, DINNER, DANCING, ETC. IN THE RADDISON BANQUET ROOM
5:00PM - SOCIAL/COCKTAIL HOUR – CASH BAR
6:00PM – Pledge of Allegiance
6:00PM – BELL CEREMONY
6:30PM – HONOR SHIPMATE RALPH KENNEDY'S FAMILY, expressing our thanks for Ralph's devoted dedication in providing many memorable reunions
6:30PM – INVOCATION & DINNER (MENU is listed in the Registration Form)
- We will present an Open Mike Forum. We ask all the Round-the-World Shipmates to relate their memories of the voyage. Time permitting, we will then open the Mike for any TRITON memory.
- MUSIC FOR YOUR LISTENING AND DANCING PLEASURE
(EITHER DJ OR BAND).
SATURDAY (4/10/10) - - BUSINESS MEETING Meeting
– Free time
– 12;00PM - 110th SUBMARINE BIRTHDAY BALL in the MGM Grand Premier Ballroom at Foxwoods Resort Casino (Tickets are $45.00 per person) celebrating the 110th Birthday of the Submarine Force. The theme of this celebration honors a significant event in submarine history, the 50th Anniversary of the USS TRITON (SSRN586) submerged circumnavigation of the world
Dress is formal: Cocktail dresses, Gowns, Suit & Tie, Dress Uniform, SubVets Vests
Event includes: VIP Cocktail Reception, Cocktails, Program, Dinner, Program, Dancing and Entertainment
TRITON JOINT NEWSLETTER SEPTEMBER, 2009
SUNDAY (4/11/10) - - CHECKOUT – COFFEE & PASTRIES IN THE LOBBY CAFE
PARKING: Adequate free parking is available in the Radisson Parking Lot. RV's are allowed, however NO services/hookups are available.
BRIEF LIST OF ATTRACTIONS:
Note: The Mystic Country magazine is an excellent source for attractions and events. Website: www.mysticcountry.com
Historic Ship Nautilus Submarine Force Museum – 860-694-3174 – www.ussnautilus.org
Mystic Aquarium – 860-572-5955 – www.mysticaquarium.org
Mystic Whaler – 860-536-4218 – www.mysticwhaler.com
Mystic Seaport – 860-572-0711 – www.mysticseaport.org
Mohegan Sun Casino – 888-226-7711 – www.mohegansun.com
Foxwoods Resort Casino – 800-200-2882 – www.foxwoods.com
Harold Weston designed a COMMERATIVE COIN to celebrate the 50th Anniversary of TRITON's submerged circumnavigation. We purchased 150 of these commerative coins. The photo of the design was included in the April 2009 Newsletter. We plan to award a commerative coin to each TRITON Shipmate attending the 2010 reunion. After we determine the amount required for the reunion attendees, we will offer the remaining coins for a donation of $8.00 each.
Shipmate Ron Sykora through his connections managed to purchase a piece of TRITON HULL. Ron estimates there will be 250 pieces when it is all cut-up. The pieces were coated on one side with red lead and several layers of white and other colors and on the other side with zinc chromate and black. Ron had to chip, scrape and wire brush and then paint them. To cover Ron's purchase cost, freight, postage, labels, boxes, paint, etc., this piece of history is available for $20.00 each. Please send your order including the shipping address and money to: Henry Jackson, 1110 Delcove Way, Greensboro, GA 30642 Note: Make checks payable to: TRITON REUNION COMMITTEE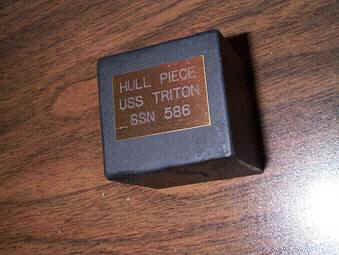 TRITON JOINT NEWSLETTER SEPTEMBER, 2009
We are very receptive to any ideas, thoughts or concerns that you may have in regards to making our forthcoming reunion a success and fun time for all. If you would like to make a recommendation, suggestion or discuss any of the information that we have presented, we may be reached as listed below
We're eagerly looking forward to a GREAT REUNION and especially looking forward to seeing you at this historic reunion. Please make every effort to attend and let's have some fun enjoying our submarine heritage while taking in THE HISTORIC SUBMARINE CAPITAL OF THE WORLD!!!!!!!
PRIDE RUNS DEEP
THE REUNION COMMITTEE
| | |
| --- | --- |
| Henry Jackson | Harold Weston |
| YNC(SS), USN(Ret) | MMCM(SS), USN(Ret) |
| Chairman | Vice Chairman |